Wood Burning Stove Installation in Bristol

Bristol is in a smoke control area and as such stoves installed must be DEFRA approved. This just means that they can't slumber or slow burn, which produces the most amount of smoke. DEFRA approved stoves can use firewood, briquettes or smokless coal (if multi fuel) and all the stoves that Embers Bristol offers are either DEFRA approved as standard or can be made so using a smoke control kit.

So with the above in mind as long as you have a chimney, and even if you don't, you really should be able to have a wood burning stove installed in your property in Bristol.

If you want to have a wood burning stove installed in a part of your property with no chimney or are having an extension or live in a new build then please have a look here to see our page about stove installation in a property with no chimney.

Free Site Survey
Embers Bristol offer a free site survey to assess your requirements and the best way to approach the installation process in your property. Use the link below to request a a free survey. We'll need to know a few details about your property and where you want the stove located, once completed we can issue an estimate.
Kilowatt Calculator
We've got a neat kW calculator that will give you an idea of the kW output that will suit your space. This should help you narrow down your options.
Stove Selection
It's a good idea to get an idea from the outset of what kind of stove you would like. A few things to consider are the kW output, fuel type and efficiency. Jus as important is how the stove looks as this thing will sit pride and centre in your house.

Stove Installation
This is where the hard work begins. Once we've done a survey and issued the estimate we can book you in for the installation proper. Click below for a detailed description of a typical Embers stove installation.
Install Gallery
In our Facebook page we update installation pictures monthly so please have a look to get idea of what is possible with or without a chimney. Some are pretty straight forward stove and flue installations and some are more complex twin wall (modular stainless steel) systems.
Case Studies
Here we've gone into more depth on a selection of projects. We've done this to give you an idea of the processess involved and what is possible. We hope these will give you a better understanding of how it all works and the options open to you.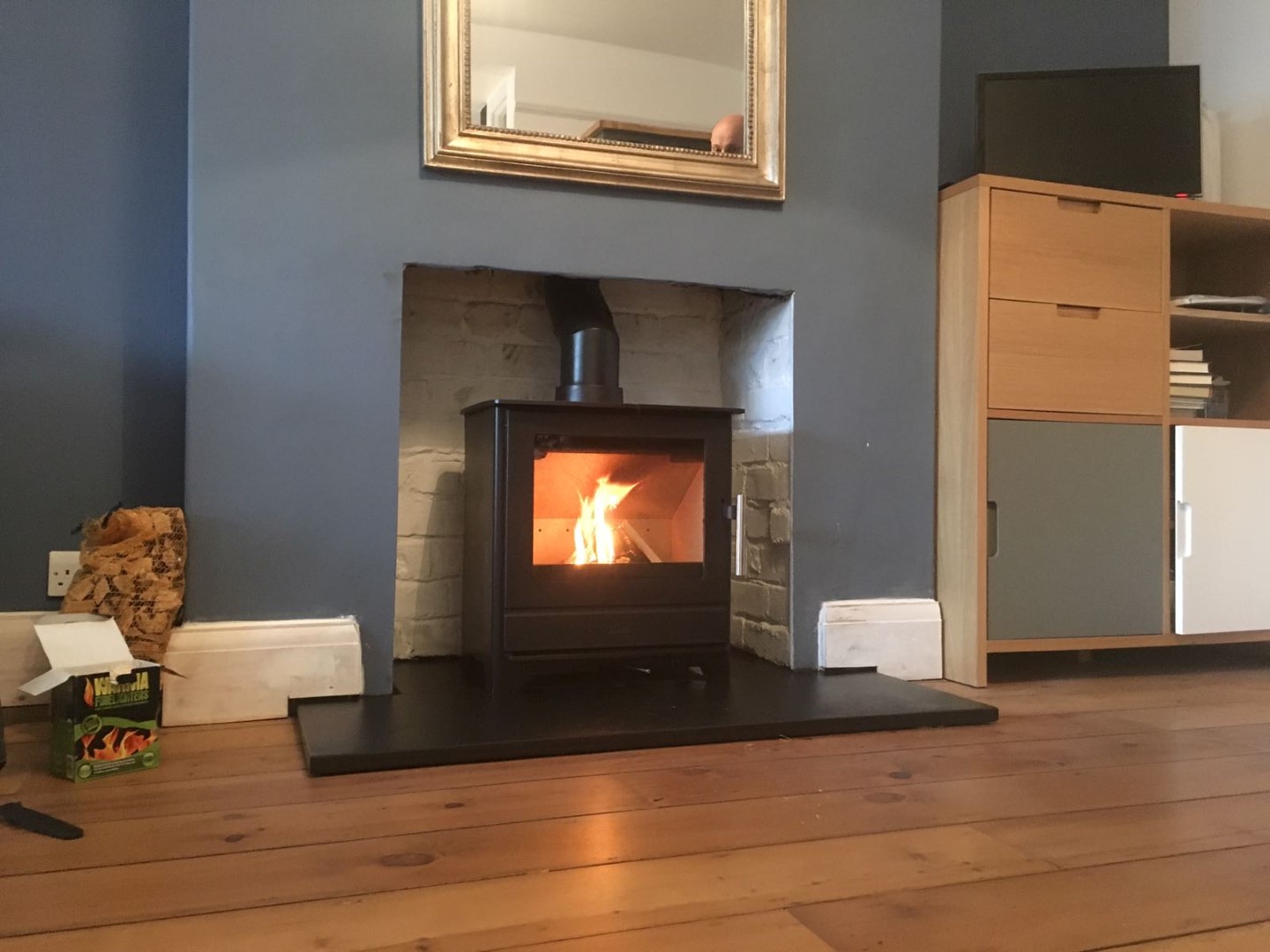 HETA Inspire 45 multi-fuel stove installation in Bristol.