Embers Bristol Guide To Installing a Wood Burning Stove

The above video shows a photo taken every 5 mins during the installation of a Charnwood C-Five wood burning stove in Bristol.
Once any prep work has been completed or if your chamber is exposed and ready to go we can install the wood burning stove. We would consider a chamber with hearths already in place (which meet the stove manufacturers, HETAS & building regulations), a non combustible chamber and swept chimney with a pot as 'ready to go', but would still need to perform a survey to double check this.
We offer a fully HETAS registered installation service which means our installation team are trained, certified and leave you with a fully compliant stove ready to use. Our engineers are experts in their field and are well versed in the many complexities of installing wood burners.
Now lets take you through a typical installation in a property with an existing brick chimney and chamber that is ready to go:

The Flexible Flue Liner is Installed
A flexible liner is usually necessary when installing a woodburning stove into an existing chimney system. This provides a direct route for the combustion gases to exit the property. There are other ways to line your chimney and if a smoke pressure test can prove your chimney does not leak it may not be needed at all. However we would recommend lining your chimney as it provides a safe exit for those nasty gases. If you intend to burn smokeless coal in your stove we recommend a 904 grade liner otherwise a 316 grade stainless steel liner is sufficient for wood burning. Fore more information about flue liner and the different grade have a look at our FAQs section.
We recommend having your chimney swept in advance of the installation as pulling the liner tends to dislodge tar and cresote that may have built up in the brick chimney. We always endeavour to cover the room with dust sheets as best we can but would also recommend removing precious objects from around the fireplace on the day of the install.

As access to your chimney pot and stack is required to install the liner Embers Bristol always recommend using collective protection measures when installing a flexible liner into a chimney system. This can vary from a scaffolding tower, cherry picker or full scaffolding. We will need to perform a visual site survey to confirm with what the safest way to gain access to your chimney stack is.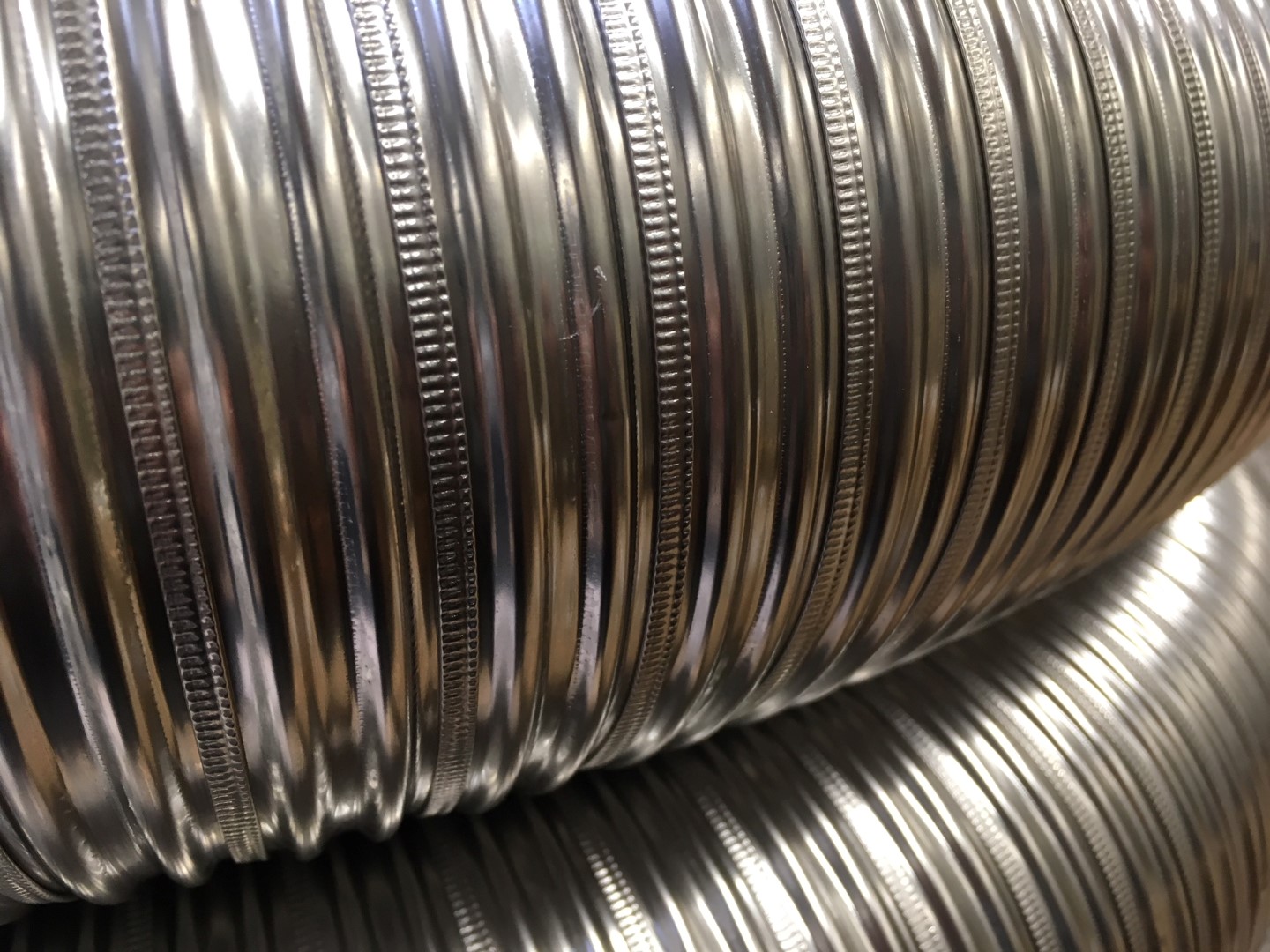 Chimney Insulation Backfilled

Chimney insulation is an optional extra and not always required. The process includes back filling the void between the steel liner and the existing brick chimney with vermiculite or other such chimney insulation. The benefits of this are that it stops heat loss from the liner into the exisitng brick chimney which reduces condensation in the steel liner that would cause creosote and tar to build up. It also reduces the chance of downdraught which can be caused by a cold chimney. Usually we recommend this when a chimney is exposed for example on an end of terrace property.
Protective Cowl Attached to Chimney Pot & Liner
The cowl connects to the liner and chimney pot which helps supports the liners weight and keeps rain and birds. If a pot is required we can supply and fit at this point.

The Stove Is Fitted and Connected
The stove is assembled as per the manufacturers guidelines and set in place in the chamber. The stove is connected from the top outlet to the flexible flue liner via a length of stove pipe that passes through a closure plate which sits at the top of the chamber to keep things tidy or hold the insulation in place. The stove pipe connects to the stainless steel liner via an adaptor hidden in the chimney aperture. A carbon monoxide alarm s fixed in place as per regulations.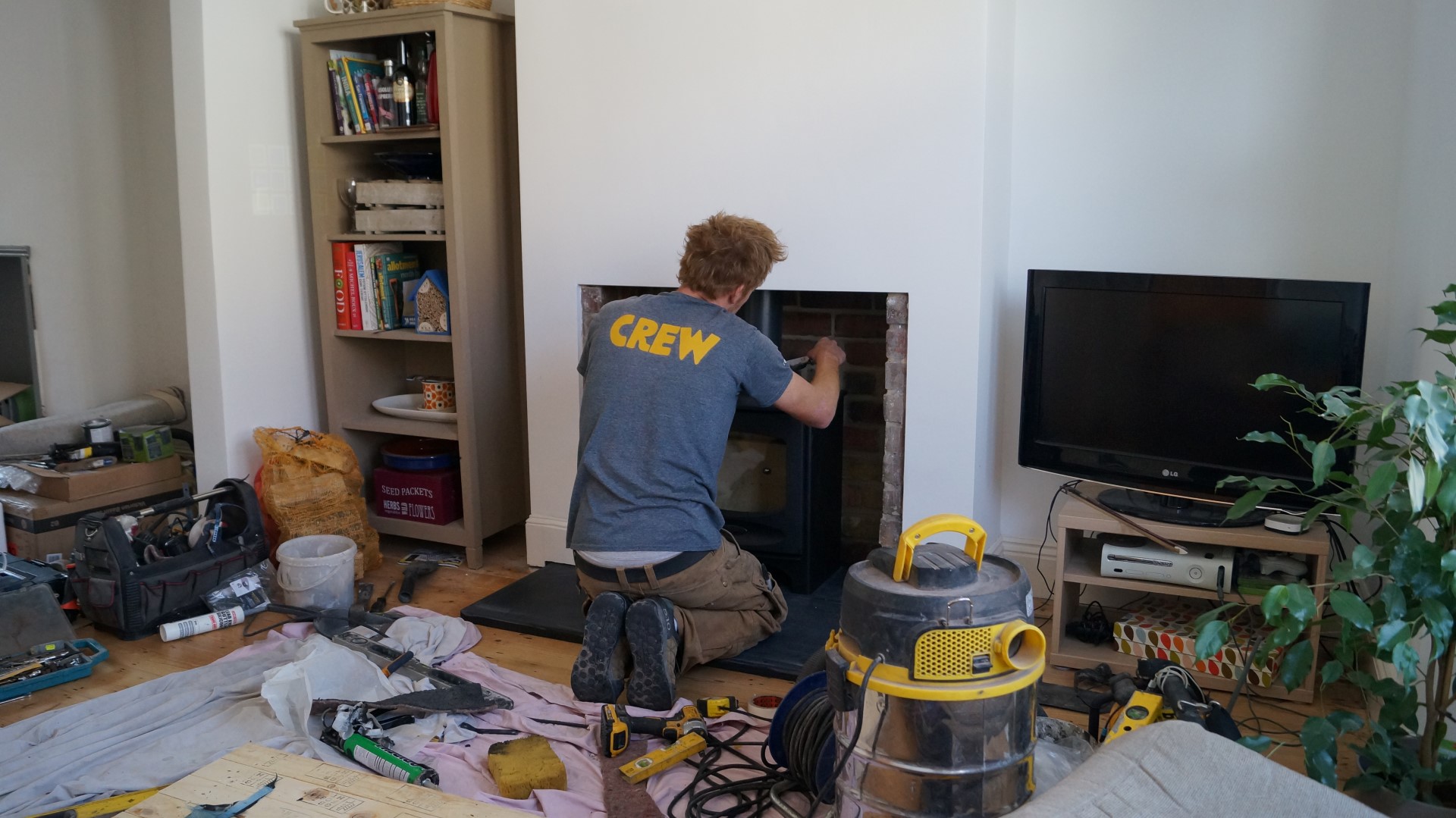 The Stove Is Commissioned
Once fitted we test the installation is in full working order with a small kindling fire or smoke pellet. Our installers will always endeavour to answer any questions and walk you through your first fire and the curing process. It is important to build up the size of the fires slowly so that the stove can cure without overfiring. Check out our FAQs page for more info on the curing porcess. Your stove is now ready to use.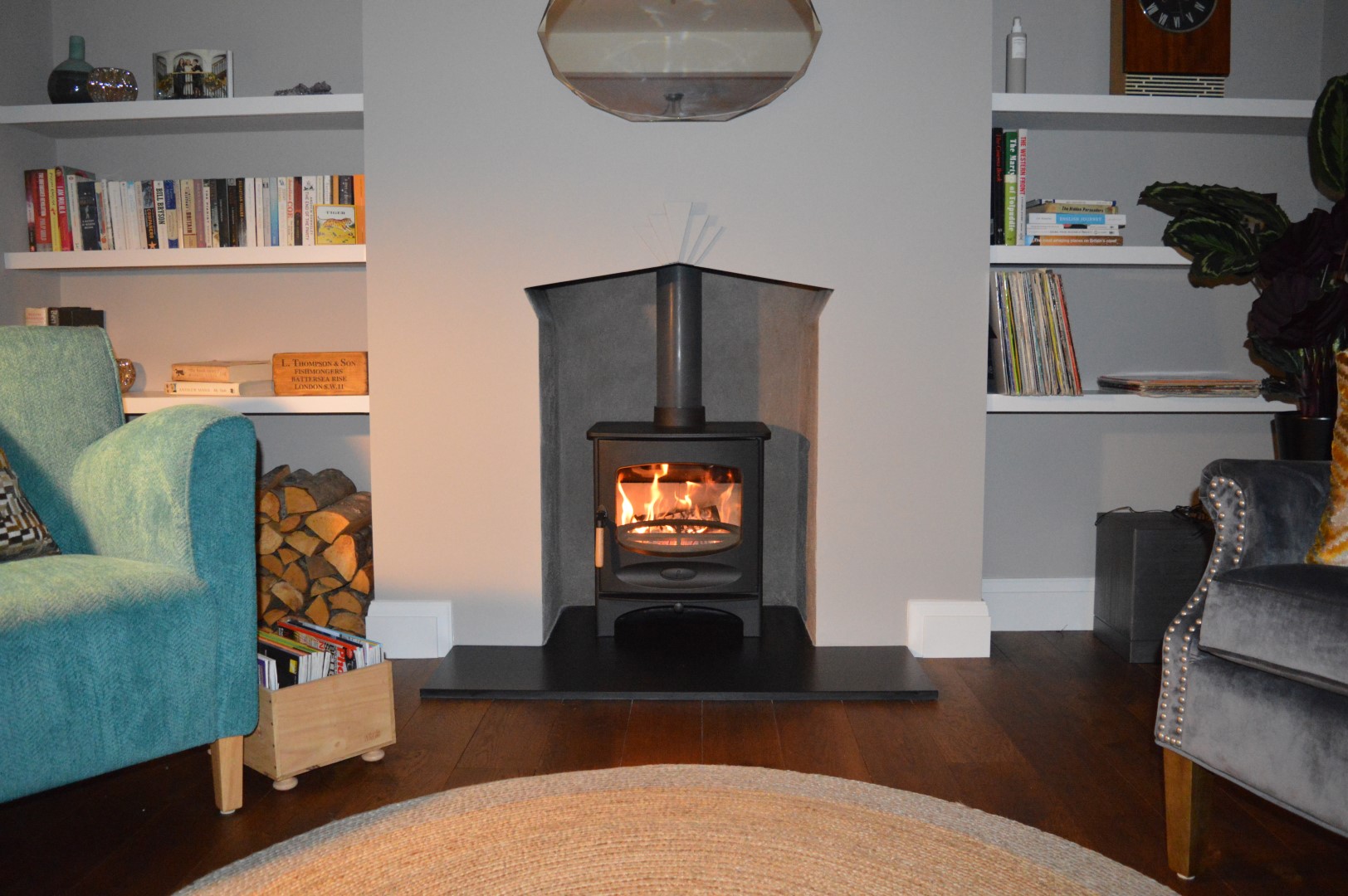 Charnwood C Five woodburning stove installation in Bristol (in gunmetal finish).